Monthly Curriculum Theme - All Around the World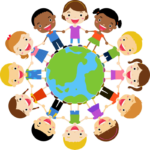 All Around the World/Multicultural!
This month we are celebrating our differences and how we all make the world such a beautiful place! Our classrooms will be traveling around the globe all month, visiting the different continents, exploring different foods, and learning many amazing facts about the animals, and people who live there! We will also be having a Multicultural Lunch in the upcoming weeks, where parents will bring foods that best represent their heritages, to learn more about where we all come from!