Mini-Campers - Pirates Week!
July 29, 2019 – August 2, 2019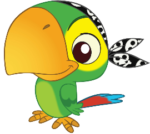 Pirates! Ahoy mates! Are ye ready for a treasure trove of fun?! Our campers will transform into the coolest pirates MMCC has ever seen. We'll hunt for buried treasure, sail our homemade boats and even dine on Pirate snacks (Pirates Booty anyone?). We'll even get new pirate names! Hope nobody has to walk the plank!
Check out all the weeks of fun at Mini-Campers brought to you by Mini-Miracles Early Education & Childcare Center!